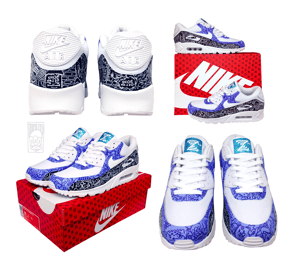 £

195.00
READY MADE. SHOE NO.104
ALLOW 1 WORKING DAY FOR ITEM TO BE DISPATCHED.
Size: UK size 9 mens, US size 10 mens
Colours: lilac-blue mix & black / white & purple detail /
bright glitter blue tongue tab.
Base shoe: all white "Nike Air Max 90"
Price includes all shipping costs (anywhere in the globe)
Each pair is an individual piece (styles vary) hand painted, numbered & dated by the artist applying great care and attention to detail, using the highest quality fabric paints, assuring fully weather proof footwear.
For more information please visit triplezed.com